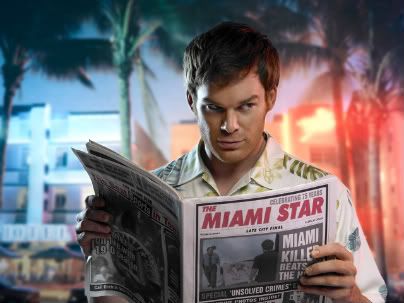 LeBron James may be new to town, but he better learn that Miami belongs to Dexter Morgan.
Headlines
Johannes Mehserle was convicted of involuntary manslaughter – the least possible sentence – after shooting an immobilized and unarmed Oscar Grant on the Oakland Subway system. Here's how some media organizations described the aftermath:
Fox News: Violent protests erupt after ex-transit officer convicted in train station killing.
CNN: Crowds storm streets after verdict in killing of unarmed black man
MSNBC: Oakland cops arrest scores after verdict protest turns violent
CBS News: Oakland Crowd Upset with Shooting Verdict
AP: Oakland police make 50 arrests, with more expected
L.A. Times: Oakland protesters clash with police after verdict in BART shooting
News/Politics
Transferring the Oil Spill: British Petroleum has a plan for its oil disaster – we're just not totally positive what it is yet. But at least Oil-soaked judges believe in deep-sea drilling.
DOMA Unconstitutional: At least one part of the Defense of Marriage Act is unconstitutional says a judge. Look for Obama and team to push this all the way to the Supreme Court.
A Steele-y Grip: Republican National Committee Chairman Michael Steele says he's not going anywhere. The DNC hopes this is the case.
Brazil Soccer Crime: It's not well known in the U.S., but in Brazil, Bruno – the starting goalkeeper for the defending Brazilian champions Flamengo – appears to have ordered the extremely brutal murder of his former girlfriend.
Newsweek: Should the Birth-Control Pill Be Sold Without a Prescription? The answer's Yes if you believe in women's choice and health. The answer is no if you believe God will send us all to hell for even creating such a pill.
Entertainment
Mel Gibson's Latest Project: So here's the pitch: A crazed celebrity who has lost touch with reality commits domestic abuse. The cops show up. It all ends in a mug shot.
Free Lindsay: For God's sake, just let the girl party. Once she actually hurts someone, toss her in the clink.
Sports
LeBron and Gone: Lebron James will play with the Miami Heat next year. You may now continue with your regularly scheduled life. Except for Cleveland owner Dan Gilbert, who is still probably losing it.
Spain Wins World Cup: At least that's what psychic octopus Paul says.
Blogs
Ramona's Voice: Listen up: What jobs are you talking about?
Brian Kanowsky: Indiana's economy under Mitch Daniels.
Down With Tyranny: Miami GOP Chairman Asked to Resign Over Domestic Violence Record.
Stevens
On the Colbert Report, long-time Daily Show fans couldn't have been happier to see Steve Colbert and Steve Carell bring back "Even Stephen"
–WKW
Crossposted at William K. Wolfrum Chronicles

460 reads
In the News
Why Canada and the U.S. Should Merge, Eh?

A Canadian asked and Will Wilkinson responded with the most obvious follow up question: Why not Mexico, too?

Such a merger makes perfect sense. No two countries on Earth are as socially and economically integrated as the U.S. and Canada. They share geography, values and a gigantic border. Their populations study, travel and do business together and intermarry in great numbers. If they were corporations (or European states), they would have merged a long time ago. And each has what the other needs: The U.S. has capital, manpower, technology and the world's strongest military; Canada has vast reserves of undeveloped resources.

[...]

Canadians have traditionally bristled at the thought of falling under the sway of the U.S., but without a...

I wonder what's in this heavy, shielded container...Oh...

Ok, ok, who among us has not driven past a front-loader waiting empty overnight and thought, "I wonder if they left the keys in that?" The same impulse to collect heavy equipment perhaps motivated the thieves who got an extra bonus when they van-jacked what looked like a nicely tricked out vehicle with a heavy lift platform....Pendajos!

Tuttle or Buttle? Spelling matters in Terruh

All those creepy Muslim organization names look the same to me, and in this case, a woman's foundation probably came within 2 letters of being a terror org - which is within 1 or 2 degrees of freedom, so Ban Her! She's a Witch!

Yes, the plot looks remarkably like Terry Gilliam's Brazil, except they haven't whisked her off to Gitmo (yet) to drill her teeth in an interrogation room.

But as a caveat to those who think metadata doesn't matter, yes, government fuckups have wings that fly far. History notes that government surveillance usually errs in ways beneficial to them, not in ways beneficial to the public or their targets. "Err on the side of caution" doesn't bode well for this lady's rights, and as is typical, the government doesn...