by Ramona 6/17/2011 - 11:38 am |
I've always dreamed of someday meeting the Dalai Lama (hasn't everybody?); sitting down with him, picking his brain, asking him the questions of the day: What do you think about war and famine and global warming? If I knew I was actually going to have the chance, I'm pretty sure I wouldn't be working up a joke to tell him. But then I'm not Australian anchor Karl Stefanovic, who had been saving his best joke (I'm guessing) for his best interview ever only to find it painfully lost, in translation and everywhere else. Watch this.
On Target: So I found that funny Dalai Lama link above at Gawker, a fun place to go when you want a laugh or two, but then I had to hang around long enough to find this disturbing bit of news: Target says their people don't need no stinkin' unions. They're so sure they really don't they've put out an anti-union video that's shown to all new employees. At Target! Yes, Target. Where anything a union can do they can do better. Gawker says you won't find this in many places, so here it is in all its glory. Thank you, Gawker. Always great to end the week on a low note.
As if Anthony Weiner's presser wasn't low enough. The deeds, the resignation, the heckling at a press conference. . .it's a strange new world out there. I wish it hadn't happened--any of it--but it did and it ended last week. So there it is. But I would rather remember Rep. Weiner like this.
Mitt Romney, a millionaire times a couple hundred, took all kinds of flak this week for commiserating with the jobless by telling them with a twinkle in his eye that he's out of work, too. But here's the thing: If Romney never, ever had a chance at a position of power I could kind of like the guy. I mean, doesn't he remind you of Michael Scott, Steve Carell's character in "The Office"? The genius of Carell's "Michael" is that, while you're seeing all measure of a completely clueless "bad boss", there's that underlying pathetic need for acceptance, that clumsy begging to be liked that might just be tugging at your heartstrings if you could overlook all the overlying damage that comes with it. Those Romney moments are like that.
Moment of Sublime: A rare interview with James Thurber on "Omnibus". I've probably read everything Thurber ever wrote (my favorite is The Years with Ross", probably because I thought I would be writing for The New Yorker some day. . .) and I admit I've spent endless minutes studying his cartoons, trying to make sense of why I'm laughing when they make no sense, but I can't remember the last time I've seen a clip of him actually talking. (It could be I never actually have before. When the memory goes, it's a terrible thing. Unless you're able to forget that you had once remembered.)
That clip of Thurber being interviewed by Alistair Sim comes from a piece by Bob Mankoff, who wrote about Thurber in The New Yorker, Thurber's home away from home, which I read (after finding a mention on Twitter) courtesy of KenInNY at Down with Tyranny, who writes about attending a Thurber Celebration where Keith Olbermann spoke--along with Thurber's daughter, Mankoff, and Calvin Trillin. This is the beautiful beauty of the Internet. If I hadn't come across the tweet on Twitter I never would have followed the wonderful paths to the video and I wouldn't be sharing any of it here. That would be just pitiful.
Cartoon of the week: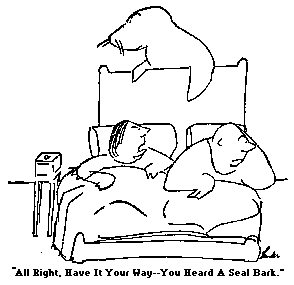 James Thurber - The New Yorker magazine - 1929
*
*(Cross-posted at Ramona's Voices.)
1547 reads
In the News
David Simon: 'There are now two Americas. My country...

It wasn't just that we could supply stuff, or that we had the factories or know-how or capital, it was that we created our own demand and started exporting that demand throughout the west. And the standard of living made it possible to manufacture stuff at an incredible rate and sell it.

And how did we do that? We did that by not giving in to either side. That was the new deal. That was the great society. That was all of that argument about collective bargaining and union wages and it was an argument that meant neither side gets to win. ...

Ultimately we abandoned that and believed in the idea of trickle-down and the idea of the market economy and the market knows best, to the point where...

A Gamble for North Korea's Young Leader (in purge of his...

By Choe Sang-Hun, New York Times, Dec. 9, 2013

[.....] Mr. Jang's purge was highly unusual for North Korea not only because its victim was a man long considered a core member of Mr. Kim's inner circle but also because of the way the regime abandoned its customary secrecy about internal politics and publicized the purge — through front-page coverage in the North's state-run newspapers and through the televised spectacle of party secretaries, some tearfully, attacking a man who was until recently the North's second most powerful figure.

In an unusual and extended Sunday meeting of the Political Bureau of the Party Central Committee presided over by his nephew, Mr. Jang was condemned for womanizing, drug abuse, "...

Barack Obama and Raul Castro among speakers at Nelson...

Jacob Zuma will deliver keynote address in first leg of what has been described as the biggest funeral in history

By David Smith in Johannesburg and Monica Mark in Cape Town, The Guardian, 9 Dec., 2013

[.....] For dignitaries attending the memorial, not least Obama and Castro, a potential diplomatic minefield awaits. But Zelda la Grange, Mandela's personal assistant for more than a decade, told Reuters: "Tomorrow, people should all be honouring their relationship with Madiba. If it means shaking hands with the enemy, yes, I would like to see that. That is what Nelson Mandela was and actually is – bringing people together despite their differences." [....]

The government will be seeking to...

NSA morale down after Edward Snowden revelations, former U....

"The agency, from top to bottom, leadership to rank and file, feels that it is had no support from the White House even though it's been carrying out publicly approved intelligence missions," said Joel Brenner, NSA inspector general from 2002 to 2006. "They feel they've been hung out to dry, and they're right." ...

A second former official said NSA workers are polishing up their résumés and asking that they be cleared — removing any material linked to classified programs — so they can be sent out to potential employers. He noted that one employee who processes the résumés said, "I've never seen so many résumés that people...