by Donal 7/12/2012 - 9:38 am |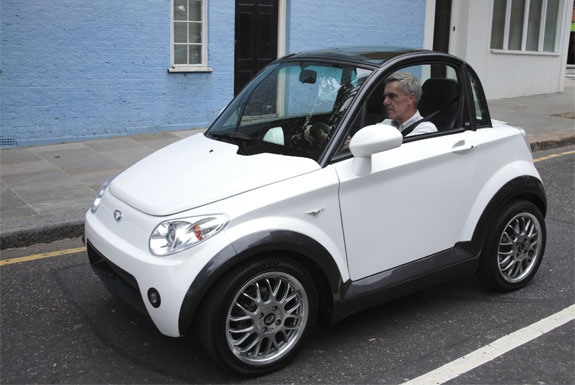 Last week in Mississippi, strange bedfellows former DNC chair Terry McAuliffe, former RNC chair Haley Barbour and former President Bill Clinton grandly unveiled the MyCar — an EV made in America.
"Too many people have given up on American manufacturing, saying manufacturing jobs are not coming back. But GTA set out to prove them wrong," said Terry McAuliffe, chairman of GreenTech. "For too long, America has been inventing products here and sending the production jobs overseas. But we're part of a rebirth for American manufacturing. We're proud to bring manufacturing jobs back and prove that the U.S. is still the world leader in technological innovation and manufacturing."
In most American jurisdictions the MyCar will probably be classified as a Neighborhood Electric Vehicle (NEV), or as a Low Speed Vehicle (LSV) in some northern states and Canada. According to the timeline on AutoChannel, Hong Kong Polytechnic conceived of a two-seat diesel ecocar in 2003, and formed a partnership with EuAuto, an Asian company with some European staff. Increasing oil prices in 2005 convinced the design team to explore the EV market instead. They launched mycar in 2007, and began mass-production two years later.
Hong Kong China October 23, 2009; The Hong Kong Polytechnic University (PolyU) and EuAuto Technology Limited (EuAuto) today jointly announced the official launch of their home-grown electric vehicle mycar in Hong Kong. The launching ceremony was held at PolyU campus with Mr John Tsang Chun-wah, Financial Secretary of the HKSAR Government, Prof. Timothy W. Tong, President of PolyU, and Mr Peter Sun, Chairman of EuAuto Technology Limited as the officiating guests.

With its body designed by internationally renowned Italian car designer Giorgetto Giugiaro, mycar has obtained the World Manufacturer Identification (WMI) Code earlier this year and it went on sales in many European countries including the United Kingdom, France, Italy, Austria and Denmark.

It is the first Hong Kong-developed vehicle which fully complied with European standards, and also the first home-grown vehicle to hit the international market.
A British article in 2010 made sport of MyCar's looks, but compared to the one-seat Tango, which never was produced, or the often bought-and-sold Think, mycar was doing well. All it needed was capital letters.
The exterior vaguely resembles a Suzuki X-90, but more cool than that with alloy wheels (standard) and a futuristic profile. We'd also note: The MyCar looks much better without anyone actually inside of it (see photos [in link]). There's something about a fully grown adult in the MyCar (photo above) that makes it looks a little like a clown car.
McAuliffe's GreenTech Automotive, Inc, then based in Virginia, acquired EuAuto in 2010, and settled on Mississippi for production.
Affordability is a key element of GTA's strategy for product development. With an expected base price of $15,500, MyCar will be considerably less expensive than other all-electric vehicles. Future models, including the MyCar EV planned for early 2014, will also be competitively priced.
It's not hard to envision that the MyCar could find a niche, particularly in the South. In 2011, CBS Sunday Morning ran a video segment on a Florida village where many seniors were driving golf carts customized to look like classic cars. An NEV is a step up from golf carts, but could be customized as easily.

Way back in 2008, I wondered if anyone would spend fifteen grand on an NEV when for a bit more they could buy a Yaris (my editor added the snark). Now I wonder if anyone will spend fifteen or eighteen grand on a MyCar when for seven or eight grand they can get into a Global Electric Motorcars (GEM) e2. GEM was purchased by DaimlerChrysler in 2000, kept by Chrysler, then sold to Polaris in 2011, so it has American creds itself, and doesn't look any more clownish than the MyCar, though like the ZENN and Dynasty NEVs, the MyCar coach does include more semiotics identifying it as an automobile than the GEM — which looks like exactly like the utility vehicle it is.


A real estate firm down the street has kept a four passenger GEM e4 parked in front for the last several years (locals have learned to step over the orange extension cord). The e4's open profile and small size is perfect for touring local rowhouses. I just checked and GEMs have dropped in price considerably from 2008.

GEM also offers pickup versions, probably to compete with Cushmans, and I've considered getting one as a second car in PA — something I could use to pickup plywood and wood pellets now, then keep as primary transportation after I retire, if I can ever afford to do that.
593 reads
In the News
I-5 bridge collapses over Skagit River near Mount Vernon;...

A bridge collapsed over Skagit River tonight near Mount Vernon. This was on Interstate 5 both north bound and south bound, four lanes total. No word yet on how many cars went into the water. This is so sad. How many of these will we have to have before we start financing infrastructure? Most of our bridges are in sad shape.

Utilities for dummies: How they work and why that needs to...

There's very little public discussion of utilities or utility regulations, especially relative to sexier topics like fracking or electric cars. That's mainly because the subject is excruciatingly boring, a thicket of obscure institutions and processes, opaque jargon, and acronyms out the wazoo. Whether PURPA allows IOUs to customize RFPs for low-carbon QFs is actually quite important, but you, dear reader, don't know it, because you fell asleep halfway through this sentence. Utilities are shielded by a force field of tedium.

It's is an unfortunate state of affairs, because this is going to be the century of electricity. Everything that can be electrified will be. (This point calls for its own post, but mark my...

"Kids Shoot the Darndest Things"

I'm not sure how many of you have read the Seattle newspaper The Stranger. "Goldy" is a sudonym (I hope I spelled that right) - the writer is pretty hardcore and unrelenting on many progressive issues, gun ownership no exception.

Wait, there are riots in Sweden?

By Elias Groll, Passport @ ForeignPolicy.com, May 22, 2013

[....] The rioting -- the worst social unrest to strike the country in many years -- was sparked by the lethal police shooting of a 69-year-old, knife-wielding man last week in the suburb of Husby, the epicenter of the riots. Roaming gangs of angry youths have since clashed with police and Husby residents have complained of racist treatment by police officers, who they say have used epithets such as "monkey."

What's happening in Husby is clearly a symptom of Sweden's failed effort to integrate its massive immigrant population. Housing segregation is rampant in the country, and Husby is a case study in how immigrant populations have come to dominate Stockholm's outer...