By William K. Wolfrum on Mon, 05/30/2011 - 9:44am | Potpourri

Let us remember.
New
Memorial Day: David Blight takes a look at how it all started. Also, take a look at CNN's Home & Away presentation.
Obama in Joplin: President amazed by destruction as death toll climbs to 142.
Afghanistan: Death. And NATO's apologies.
Entertainment/Sports
Sean Kingston: Music stars give injured singer the good words.
Buckeyed: Jim Tressel sneaks away from the Ohio State football program.
Rampaged: Rampage Jackson beats Matt Hamill. Quite easily, actually.
Blogs
Oliver Willis: Guess who needs her hand for notes again? Go on, guess.
Steve Benen: Tim Pawlenty thinks Obama's a "doofus?" How Presidential.
Hammer of Truth: Remembering all the fallen this Memorial Day.
Finally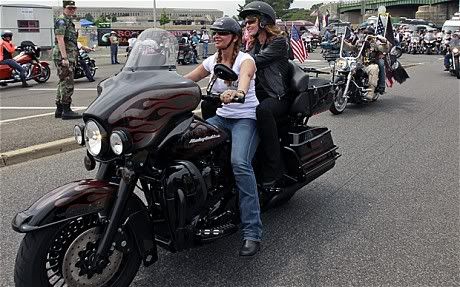 Taking some time off pretending to be a presidential candidate, Sarah Palin pretends to be a biker.
–WKW
Crossposted at William K. Wolfrum Chronicles