By Donal on Sun, 05/20/2012 - 9:59pm | Politics, Social Justice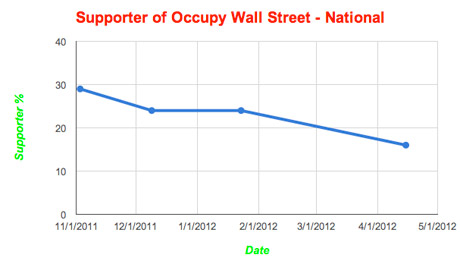 Based on an NBC/Wall Street Journal poll (right), the Guardian announces, Occupy Wall Street's people power loses popularity:
... the public's backing of Occupy has taken a hit. Nationally, most pollsters have not even bothered to survey Americans on their views of Occupy since the end of the Zuccotti Park sit-in. The only pollster who has reasonably consistently asked about Occupy has seen a decline in its support. The NBC/Wall Street Journal poll found that the percentage of Americans who consider themselves a "supporter" of the Occupy movement has dropped by half since November.
I read this last week, and wondered, who of course, could be more impartial about Occupy Wall Street than the WSJ's pollsters? And who, I wonder are they asking?
On a blog post pointed out today by Andrew Sullivan's Dish, Walter Russell Mead makes a lot of strange claims in OWS RIP:
Despite generally favorable coverage from the MSM (something the Tea Party has never had), OWS has essentially fallen apart.
Mead must have been reading very different articles than I saw - on both sides. The Baltimore Sun fell over themselves to channel Breitbart and other conservative memes about OB, and as I noted at the time, local TV was drawn to the most unusual-looking characters rather than those with the most cogent ideas. Since being dispersed by the city, Occupy Baltimore has not attempted to reestablish a campground, but they aren't inactive. Under the name Occupy Our Homes they continue to protest foreclosures, there have been Occupy Bank of America protests and there was  a small Occupy the G8 Summit protest in Thurmont, near Camp David, this weekend. Occupy protestors were "arriving by the busload," for the NATO Summit in Chicago. And there are thousands marching under the name in Europe.
To some degree, it was killed by its "friends." The tiny left wing groups that exist in the country jumped all over the movement; between them and the deranged and occasionally dangerous homeless people and other rootless wanderers drawn to the movement's increasingly disorderly campsites, OWS looked and sounded less and less like anything the 99 percent want anything to do with.
From my limited perspective, Occupy Baltimore was an uneasy alliance between groups with little in common previously. Some of the homeless seemed to enjoy being noticed and being part of something, but others simply saw the campers as fodder, right there in the next tent. African American speakers harped on resolving racial disparities first. LGBT art students also wanted to be heard. College students and underemployed graduates were upset at their high debts and the piss poor job market, and brought a middle class look to the movement. LarouchePAC showed up as per usual, as did Libertarians. Old hippie leftists also seemed to enjoy being noticed but there seemed to be very serious, young anarchist apparatchiks actually making things happen. 
At the same time, the movement largely failed to connect with the African American and Hispanic churchgoers who would have to be the base for any serious grass roots urban political mobilization. The trade unions picked up the movement briefly but dropped it like a hot brick as they found the brand less and less attractive.
In Baltimore, I can't speak to black church sentiment, but support from the trade unions, even the Fraternal Order of Police, kept OB in McKeldin Square a lot longer than predicted by onlookers.

One of Mead's commenters makes somewhat more sense to me: 
If OWS had started as an indebted students movement, like Argentina, if they hadn't camped out and become odd urban obstructions, and if a charismatic leader had surfaced, giving the media something to focus on, I suspect things would have turned out differently.
They may have been treated better, but I doubt they would have achieved such a high profile, or accomplished much more. 
The MSM, with the exception of MSNBC's gung-ho grad student excitement, was uneasy and ambivalent about OWS. NYT's first articles, at least the ones I read, were dismissive, frequently focusing on Wall Street condescension and never attempted to grasp the situation. The Daily Show went for easy laughs – each segment highlighted OWS's freak show contradictions.

But the true death of OWS, other than inertia: the violent images that came out of Oakland, teargas and surging crowds, bloody faces. I suspect that TV audiences recoiled, dreading the social the chaos of the 60′s.

Of course, behind the scenes funding, which the Tea Party received and OWS didn't, is also a big part of the story. Dick Army and the Koch Bros knew how to effectively channel Tea Party energy.
Though it is unclear who was behind it, the Black Bloc image has been a problem, granting authorities cover to strategically charge Occupy protestors with terrorism in advance of significant actions.
Deutsch later told reporters outside the courtroom that, though he was just getting into the case and didn't know all the evidence, he believed it was a setup. At least two informants "ingratiated themselves" with the three men, brought the materials and made the alleged plans, he insisted, calling it "an entrapment to the highest degree."
I think the name Occupy will continue to have some power, but protestors and the police alike will never again be able to count on the other to be non-violent - which of course serves the interests of those that don't want protest to have any real effect. I do wonder what shape and name the next protest movement will take.