Genghis's exclusives about events that have yet to occur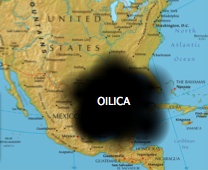 June 16, 2030
Twenty years after President Barack Obama vowed to fight the massive underwater oil spill in the Gulf of Mexico "with everything we've got for as long as it takes," the U.S. government has formally surrendered to the spill. In a brief ceremony on a Louisiana hilltop overlooking a sea of black ooze, President George Prescott Bush signed a peace treaty that conceded almost 500,000 square miles of U.S. territory to the oil spill's dominion, including fishing and mineral exploration rights for the entire Gulf Coast.&nbsp[Read more]
2075 reads

July 20, 2029
To celebrate the 60th anniversary of the first moon landing, NASA staged a high-tech reenactment of the event in Nevada National Landfill Park. The landing was delayed by several hours due to cloudy weather and space junk that disrupted satellite transmission of President George Prescott Bush's remote broadcast from Washington D.C. Officials finally commenced the mission without the President's address after impatient visitors began shouting and throwing landfill refuse, including vintage Pepsi bottles, plastic shopping bags, and other historic artifacts.&nbsp[Read more]
769 reads

May 13, 2029
Twenty-six years after invading Iraq, the United States closed its military bases and evacuated the last American soldiers from Iraqi soil.
In an address to soldiers at Fort Bragg, President George Prescott Bush praised the U.S. military for accomplishing the mission that his uncle, former President George W. Bush, had set before them in 2003.&nbsp[Read more]
689 reads

May 6, 2029
President George Prescott Bush signed into law a ground-breaking automobile subsidy that will pay the United States' last remaining automaker, General Chrysford, to build cars that will be shipped straight to the scrapyards. The Automotive Repurposing Act is designed to help the Big One survive a global glut of automobiles that has driven the price of cars below the break-even point. Lisa Lemmon, the CEO of General Chrysford, has lobbied hard for the bill and argued in a recent USA McNews editorial that the auto company could not survive without assistance:&nbsp[Read more]
867 reads

May 1, 2029

Canadians suffered a fifteenth day without computer access as the the Canadian government negotiated with a malicious software virus for release of its nation's computers. The virus, known by its nom de guerre, Evil LOLcat, has demanded ¥10 billion, freedom for 25 quarantined viruses, and a "cheezburger."&nbsp[Read more]
5770 reads

April 27, 2029

The world's most popular search engine, MyRealittee.com, set a new record with its long-awaited ¥8.3 trillion IPO on the WongDaq stock exchange in Shanghai. MyRealittee.com's unusual IPO process, a reverse double-blind Flemish auction with a half-somersault, left analysts scratching their heads but did not prevent a buying frenzy that drove the share price up to ¥1279 by the end of trading. MyRealittee.com is now worth ¥74.8 trillion, approximately four times the GDP of the United States.&nbsp[Read more]
614 reads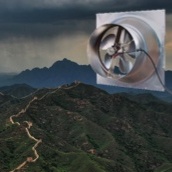 April 24, 2029
After a decade of development, China has announced the completion of the controversial Great Fan project. The massive 900-meter-tall nuclear-powered fan has been designed to relieve the impacts of global warming on Beijing and surrounding areas by blowing millions of cubic meters of hot air towards its northern neighbors. Russia has vigorously protested the construction of the fan before the United Nations, the International League of Justice, and the Asian-Pacific-Plus-Denmark Large Claims Court, but China has so far succeeded in blocking the suits using its veto power, bribery, and tricky lawyers.&nbsp[Read more]
802 reads
In the News
Britain, Germany and France Now Oppose Hezbollah

By Nicholas Kulish, New York Times, May 22/23, 2013

BERLIN — Three of Europe's most powerful countries — Britain, Germany and France — have thrown their weight behind a push for the European Union to designate the Lebanese militant group Hezbollah as a terrorist organization, a move that could have far-reaching consequences for the group's fund-raising activities on the Continent.

On Wednesday, Germany signaled an about-face in its policy toward the group, with a statement saying Foreign Minister Guido Westerwelle supported listing "at least the military wing" of the organization as a terrorist group. The announcement came just a day after Britain's Foreign Office said it would...

Man killed in meat-cleaver terror attack in London

Woolwich killing: meat cleaver, knife and jihadist claims filmed on mobile

By Vikram Dodd, Shiv Malik & Ben Quinn, guardian.co.uk, May 22,2013

Dramatic footage emerges of suspect after British soldier is killed in suspected terror attack

• British soldier dead in suspected terror attack in London
• Knife attack near barracks 'an eye for an eye', says suspect
• Killing in street is 'absolutely sickening' says prime minister

Also @ The Guardian:...

A Word from Our Sponsor

By Jane Mayer of the New Yorker. If you are wondering how far PBS is willing to go to placate David Koch to keep their funding? It gives you a look into the special documentry "Citizen Koch" and its fall out. The program was never aired except at Sundance. David Koch resigned from WNET on May 16th.