Genghis's exclusives about events that have yet to occur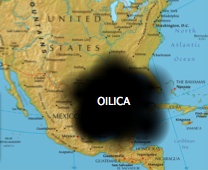 June 16, 2030
Twenty years after President Barack Obama vowed to fight the massive underwater oil spill in the Gulf of Mexico "with everything we've got for as long as it takes," the U.S. government has formally surrendered to the spill. In a brief ceremony on a Louisiana hilltop overlooking a sea of black ooze, President George Prescott Bush signed a peace treaty that conceded almost 500,000 square miles of U.S. territory to the oil spill's dominion, including fishing and mineral exploration rights for the entire Gulf Coast.&nbsp[Read more]
2180 reads

July 20, 2029
To celebrate the 60th anniversary of the first moon landing, NASA staged a high-tech reenactment of the event in Nevada National Landfill Park. The landing was delayed by several hours due to cloudy weather and space junk that disrupted satellite transmission of President George Prescott Bush's remote broadcast from Washington D.C. Officials finally commenced the mission without the President's address after impatient visitors began shouting and throwing landfill refuse, including vintage Pepsi bottles, plastic shopping bags, and other historic artifacts.&nbsp[Read more]
881 reads

May 13, 2029
Twenty-six years after invading Iraq, the United States closed its military bases and evacuated the last American soldiers from Iraqi soil.
In an address to soldiers at Fort Bragg, President George Prescott Bush praised the U.S. military for accomplishing the mission that his uncle, former President George W. Bush, had set before them in 2003.&nbsp[Read more]
738 reads

May 6, 2029
President George Prescott Bush signed into law a ground-breaking automobile subsidy that will pay the United States' last remaining automaker, General Chrysford, to build cars that will be shipped straight to the scrapyards. The Automotive Repurposing Act is designed to help the Big One survive a global glut of automobiles that has driven the price of cars below the break-even point. Lisa Lemmon, the CEO of General Chrysford, has lobbied hard for the bill and argued in a recent USA McNews editorial that the auto company could not survive without assistance:&nbsp[Read more]
993 reads

May 1, 2029

Canadians suffered a fifteenth day without computer access as the the Canadian government negotiated with a malicious software virus for release of its nation's computers. The virus, known by its nom de guerre, Evil LOLcat, has demanded ¥10 billion, freedom for 25 quarantined viruses, and a "cheezburger."&nbsp[Read more]
5867 reads

April 27, 2029

The world's most popular search engine, MyRealittee.com, set a new record with its long-awaited ¥8.3 trillion IPO on the WongDaq stock exchange in Shanghai. MyRealittee.com's unusual IPO process, a reverse double-blind Flemish auction with a half-somersault, left analysts scratching their heads but did not prevent a buying frenzy that drove the share price up to ¥1279 by the end of trading. MyRealittee.com is now worth ¥74.8 trillion, approximately four times the GDP of the United States.&nbsp[Read more]
670 reads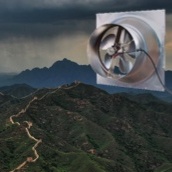 April 24, 2029
After a decade of development, China has announced the completion of the controversial Great Fan project. The massive 900-meter-tall nuclear-powered fan has been designed to relieve the impacts of global warming on Beijing and surrounding areas by blowing millions of cubic meters of hot air towards its northern neighbors. Russia has vigorously protested the construction of the fan before the United Nations, the International League of Justice, and the Asian-Pacific-Plus-Denmark Large Claims Court, but China has so far succeeded in blocking the suits using its veto power, bribery, and tricky lawyers.&nbsp[Read more]
867 reads
In the News
David Simon: 'There are now two Americas. My country...

It wasn't just that we could supply stuff, or that we had the factories or know-how or capital, it was that we created our own demand and started exporting that demand throughout the west. And the standard of living made it possible to manufacture stuff at an incredible rate and sell it.

And how did we do that? We did that by not giving in to either side. That was the new deal. That was the great society. That was all of that argument about collective bargaining and union wages and it was an argument that meant neither side gets to win. ...

Ultimately we abandoned that and believed in the idea of trickle-down and the idea of the market economy and the market knows best, to the point where...

A Gamble for North Korea's Young Leader (in purge of his...

By Choe Sang-Hun, New York Times, Dec. 9, 2013

[.....] Mr. Jang's purge was highly unusual for North Korea not only because its victim was a man long considered a core member of Mr. Kim's inner circle but also because of the way the regime abandoned its customary secrecy about internal politics and publicized the purge — through front-page coverage in the North's state-run newspapers and through the televised spectacle of party secretaries, some tearfully, attacking a man who was until recently the North's second most powerful figure.

In an unusual and extended Sunday meeting of the Political Bureau of the Party Central Committee presided over by his nephew, Mr. Jang was condemned for womanizing, drug abuse, "...

Barack Obama and Raul Castro among speakers at Nelson...

Jacob Zuma will deliver keynote address in first leg of what has been described as the biggest funeral in history

By David Smith in Johannesburg and Monica Mark in Cape Town, The Guardian, 9 Dec., 2013

[.....] For dignitaries attending the memorial, not least Obama and Castro, a potential diplomatic minefield awaits. But Zelda la Grange, Mandela's personal assistant for more than a decade, told Reuters: "Tomorrow, people should all be honouring their relationship with Madiba. If it means shaking hands with the enemy, yes, I would like to see that. That is what Nelson Mandela was and actually is – bringing people together despite their differences." [....]

The government will be seeking to...

NSA morale down after Edward Snowden revelations, former U....

"The agency, from top to bottom, leadership to rank and file, feels that it is had no support from the White House even though it's been carrying out publicly approved intelligence missions," said Joel Brenner, NSA inspector general from 2002 to 2006. "They feel they've been hung out to dry, and they're right." ...

A second former official said NSA workers are polishing up their résumés and asking that they be cleared — removing any material linked to classified programs — so they can be sent out to potential employers. He noted that one employee who processes the résumés said, "I've never seen so many résumés that people...