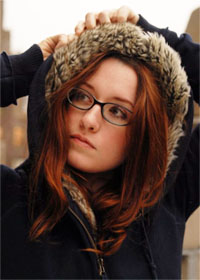 I finally have a celebrity crush!
For the first time in 35 years, there is finally a woman out there whose posters I want to plaster all over my bedroom walls, whose biographical trivia I want to accumulate like so many rare golden nuggets, whose live and TV appearances I want to schedule my life around (while still respecting all applicable stalker laws, of course).
The object of my intense affection and the clear winner of this week's My One Favorite Thing award is singer Ingrid Michaelson.
Before last Thursday, all I knew of Ms. Michaelson is she sang this simple, catchy love song called "The Way I Am" that my girlfriend dedicated to me on Facebook (That song, featured in an Old Navy ad, propelled Michaelson to the significant indie-type of stardom she now enjoys. My girlfriend dedicated it to me mostly because it contains the line "I'd buy you Rogaine when you start losing all of your hair," which, alas, has some, uh, personal relevancy).
I didn't have much in the way of expectations when my girlfriend told me she bought us tickets to go see Michaelson live at New York's City Winery (which for all you locals is a fairly new, awesome music venue worth checking out - cavernous yet still somehow cozy, with great acoustics, and good, reasonably priced food and wine to boot).
I certainly didn't expect Ingrid Michaelson would give one of the most entertaining, enchanting performances I have ever witnessed, and that she would make me all giddy with girl-crush tingliness. (I have attached a long, low-fidelity 40-minute clip of the show that my brother recorded on his IPod Touch for anyone with the time and interest)
Now I knew from listening to a few of her songs that Michaelson had strong pipes, but she's no mere studio voice. On stage, her sound reached soaring heights with very little effort, showing at least as much range and power and clarity as on her albums. Plus, she also knew how to use the occasional, well-placed 'crack' in her voice to display an endearing vulnerability and fragility in songs that were inevitably about the getting and/or losing of love.
Though it played a clear second fiddle to the star singer, Michaelson's band was pretty tight as well, benefiting from their long-time collaboration. And the backup vocals - performed by the three guitarists and a key factor in many songs - meshed beautifully with Michaelson's voice. Her music generally rocks a teensy bit harder than some of the other female songwriters who I would put in a similar category, like Feist or Regina Spektor.
But it wasn't the technical performance of the concert that won me over. The star of the show was clearly Michaelson's silly, playful, self-deprecating, lovable personality ... which came as a complete surprise to me. I don't know if it was because of her name or her voice, but I expected Ingrid to be this tall, stunning, rail-thin, aloof performer, yet she was actually a bit on the short side, full of curves, mad funny and totally engaging.
Dressed in a stylish yet comfy-looking hipster outfit - tight dark pants, brown leather boots, sleeveless black shirt, colorful scarf and a cute, bowler-like hat -  she reminded me of the sexy best friend you totally dig hanging out with and then all of a sudden somewhere along the way, you realize you've fallen in love.
Despite her talent, she seems rather humble and doesn't take herself or her work too seriously, joking during the concert that she composes all her songs in the 'C' chord because it's the simplest and turning the lyrics of another song into a catchy paean for the Lost TV show.
(I wondered at times if her humility and self-doubt were a bit of an act - she seemed way too engaging of a performer for it to be totally legit - but then there were moments, like when she came back for her encore and spent several minutes trying to remember how to play a tune on the piano, where she truly seemed about ready to totally lose it).
Michaelson loves interacting with the audience, and its one of her biggest strengths as a performer. Early in the show, she obliged one fellow who wanted to propose to his girlfriend by popping the question for him and then dedicated a beautiful, yet also sweetly realistic song of hers called 'Giving Up' to the happy couple. "Thanks for reminding me I'm alone," she joked. (Oh, but you so don't have to be, Ingrid!)
At another point, she chided the audience for not being more enthusiastic about joining in on the chorus
to her song 'The Hat'. She created this hilarious little story/metaphor - seemingly on the spot - about taking us on a date and comparing our vocal performance to a lame first kiss:
"I take you in my car. I take you home and I reach in, I lean in for a kiss. And what you just gave me was like a dry, half-mouthed, Aunt Mabel kiss. And I bought you like seven dirty martinis so I think I could get a little bit more. So I'm going to try once again, and at least let me get a full lip situation, if not a little over the blouse action."
When the audience subsequently obliged with a more full-throated response, she screamed "You're a slut" into the microphone before finishing the song.
I fear I'm not doing a good enough job explaining her rockingness, so I just encourage everyone to catch her act when she's in town and see for herself. You won't regret it.
The only thing I regret is how stupid and flustered I got after summoning up enough courage to approach her after the show to get her picture. I don't remember what I said, but I'm pretty sure it was incoherent. My girlfriend tried to help me out by telling Ingrid that I had immediately placed her in my Top 5, and thus was free to fool around with her, but I think that scared her even more!
Oh well, I'll do better next time
------------------------------------------------------------------------------------------------------------------
Michaelson has probably had to perform 'The Way I Am' a few million times, so it's no surprise she plays around with the song to try and keep it interesting. Here she performs her rap remix version of the song. Damn, isn't she adorable?
This is a cute little animation video set to the "Giving Up" song I referenced earlier in the post.
3944 reads
In the News
Why Canada and the U.S. Should Merge, Eh?

A Canadian asked and Will Wilkinson responded with the most obvious follow up question: Why not Mexico, too?

Such a merger makes perfect sense. No two countries on Earth are as socially and economically integrated as the U.S. and Canada. They share geography, values and a gigantic border. Their populations study, travel and do business together and intermarry in great numbers. If they were corporations (or European states), they would have merged a long time ago. And each has what the other needs: The U.S. has capital, manpower, technology and the world's strongest military; Canada has vast reserves of undeveloped resources.

[...]

Canadians have traditionally bristled at the thought of falling under the sway of the U.S., but without a...

I wonder what's in this heavy, shielded container...Oh...

Ok, ok, who among us has not driven past a front-loader waiting empty overnight and thought, "I wonder if they left the keys in that?" The same impulse to collect heavy equipment perhaps motivated the thieves who got an extra bonus when they van-jacked what looked like a nicely tricked out vehicle with a heavy lift platform....Pendajos!

Tuttle or Buttle? Spelling matters in Terruh

All those creepy Muslim organization names look the same to me, and in this case, a woman's foundation probably came within 2 letters of being a terror org - which is within 1 or 2 degrees of freedom, so Ban Her! She's a Witch!

Yes, the plot looks remarkably like Terry Gilliam's Brazil, except they haven't whisked her off to Gitmo (yet) to drill her teeth in an interrogation room.

But as a caveat to those who think metadata doesn't matter, yes, government fuckups have wings that fly far. History notes that government surveillance usually errs in ways beneficial to them, not in ways beneficial to the public or their targets. "Err on the side of caution" doesn't bode well for this lady's rights, and as is typical, the government doesn...

Pope Francis to establish child protection commission in...

By Paddy Agnew, Irish Times, Dec. 6, 2013

In a surprise move, the Holy See yesterday announced that Pope Francis is to assemble a panel of experts to advise him on the problem of clerical sex abuse. This Vatican Child Protection Commission represents arguably the first concrete proposal to emerge from the so-called "G8" Council of Cardinals who have been meeting with the pope in Rome this week.

Originally appointed in April by Pope Francis to help him both govern and reform the Catholic Church, the G8 council is only now getting down to serious work [....]

As far as the composition of the commission's panel of experts goes, it seems likely that the...